YT8010A Ethernet Physical Layer Chip from Motorcomm Passes the AEC-Q100 Grade 1 Automotive-Grade Certification
2020-04-13
Recently, Motorcomm announced that its self-developed YT8010A series physical layer chip products, which comply with IEEE100BaseT1 standard, have successfully passed the AEC-Q100 Grade 1 automotive-grade certification.
"From early-stage preparations, product testing, to certification and release, we conducted dozens of reliability tests on tens of thousands of samples during the nine-month certification. Finally, with the unremitting efforts of our team, the YT8010A product has successfully passed a series of automotive grade certifications including environmental stress acceleration verification, life acceleration simulation verification, packaging verification, chip manufacturing reliability verification, electrical verification, and failure screening verification. Meanwhile, by taking a series of measures including strengthening product quality control, increasing product screening stress, and improving product test coverage, Motorcomm has effectively met the requirements of the front-end market for low Parts Per Million of automotive-grade chips."says the head of Motorcomm's AEC-Q100 project.
So, what exactly is the AEC-Q100 test? As we all know, all electronic products will be subject to a series of tests before production. The AEC-Q100 automotive certification is more stringent than the certification of ordinary consumer electronics. AEC-Q100 automotive certification, as one of the passes for IC manufacturers to enter the automotive industry, is developed and promoted by the Automotive Electronics Council, and is highly recognized in the industry for its strict quality and reliability requirements for each chip, especially for the standard specification testing of product functions and performance. To enter the automotive IC supply chain, IC design companies must pass the AEC-Q100 test.
The automotive field is different from the commercial and industrial fields. On-board parts, especially fine parts, typically take at least three years from validation to mass production. Taking automotive chips as an example, in addition to developing new products, verifying their performance and selling them in the market, chip suppliers must also spend a lot of time and cost much to get the chips they produce to pass reliability, interoperability and other tests. After completing the design, development, internal testing, revision and improvement of chips, the suppliers must also contact TIER ONE suppliers and even OEMs through various channels to conduct assisted testing, and at the same time, they must also carry out vehicle-mounted testing and certification until the products are officially introduced into the OEM's new vehicle model project. It takes a year and a half to three years for a supplier to unveil a chip product. After that, the new model needs to be tested continuously in the factory, so it will be another year and a half to three years before the chip access is finalized.
YT8010A is a IEEE100BaseT1 compliant automotive Ethernet physical layer chip, which has successfully passed the AEC-Q100 Grade 1 automotive grade certification, representing a high-performance automotive chip in China.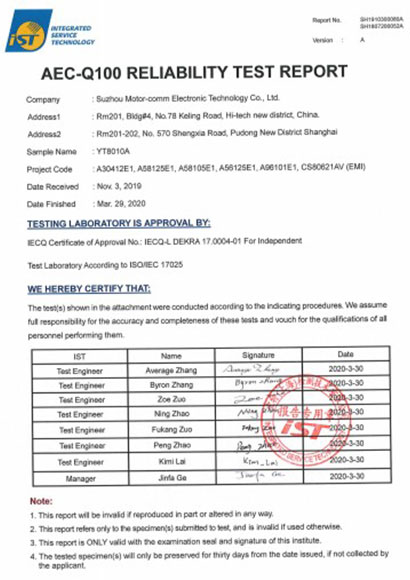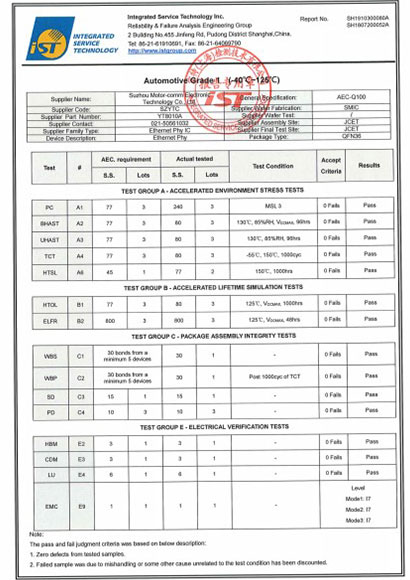 Motorcomm is a communication chip R&D company focusing on the development of high-speed communication chips for wired networks. Motorcomm integrates R&D, sales and industrialization, and its products include high-speed Ethernet physical layer chips, high-speed Ethernet switch chips, and high-speed Ethernet NIC chips. It is now one of the few suppliers of high-speed Ethernet physical layer chips in China. Motorcomm's chips gradually surpass similar chips from foreign peer vendors in terms of parameters and functions, and are widely used in various industries such as digital communication, telecommunication, automotive, consumer, and industry. Motorcomm has been launching a series of chip products since 2019, rapidly breaking the monopoly of international chip enterprises in various market areas.
Motorcomm, as a chip design company with fully independent intellectual property rights, helps the domestic automotive industry to become intelligent and connected. With the unremitting efforts of our team, China can also have its own independent production of high-tech, high-standard, and high-quality chips. We believe that automobile intelligence will be realized in the near future!