Motorcomm Successfully Passed SGS ISO 26262:2018 Automotive Electronic Function Safety Certification
2022-10-08
Recently, Motorcomm was officially awarded the process certification based on the ISO 26262:2018 ASIL D automotive-grade functional safety standard by SGS-CSTC Standards Technical Services Co., Ltd. (SGS), an internationally recognized inspection, accreditation, testing and certification organization.
The ISO 26262 standard is a globally accepted functional safety standard for automotive electrical and electronic systems. The standard covers the entire product lifecycle, involving functional safety management, product safety concepts, system development, hardware and software development, and other support processes. The ASIL level in certification, that is, the Automotive Safety Integrity Level, includes four levels from A to D, which are sorted from low to high, among which ASIL D level stands for the highest and strictest functional safety level.

Obtaining ISO 26262 process certification means that Motorcomm has built a complete set of development processes corresponding to functional safety-related products. Based on this process, Motorcomm has trained its internal staff on the expertise and methodology that enables it to integrate functional safety-related concepts into all phases of product development from the early stages of a project.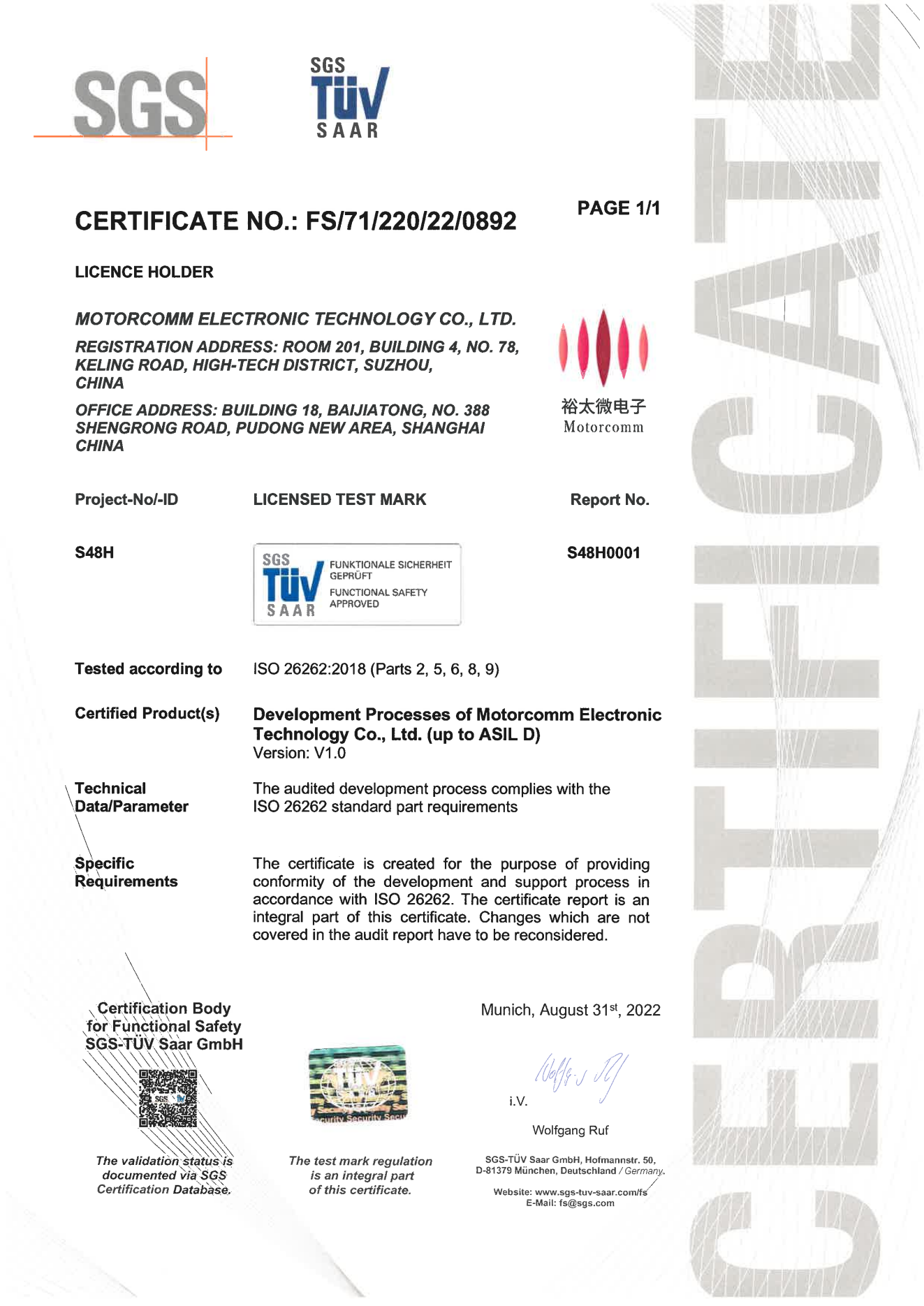 In recent years, with the increasing of the vehicle electrification and networked intelligence and the complexity of the vehicle electrical system, the finished-automobile electrical architecture is experiencing rapid iterative upgrade. A large number of new technologies and applications of new products continue to emerge, making vehicle safety a hot topic in society. For this reason, vehicle manufacturers often put forward very high requirements for the safety of automotive component products, and the ISO 26262 standard has gradually become one of the recognized thresholds for automotive electronic component suppliers to enter the automotive industry.
Achieving ISO 26262 (up to ASIL D) process certification signifies that Motorcomm has an internationally recognized capability in the area of functional safety processes.